How Office Design Impacts Your Bottom Line
Posted in Guides, on March 11, 2020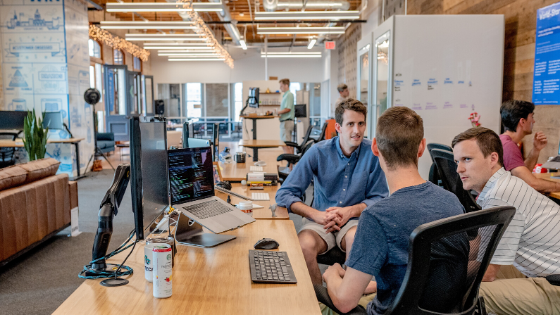 One of the elements to running an office that is often deprioritized is the actual design of the office. If there's enough space for everyone to sit at a desk, that should be enough, right? While that might sound good in theory, it's not really true in practice. Office design has a major impact across a lot of different spheres, including employee relations. As office cultures and employee wellbeing come more into focus, the role of office design will play an even stronger role in helping you achieve your bottom line and increasing productivity.
The Connection Between Office Design & Employee Relations
There are a lot of different ways office design has an impact on recruitment and retention, but the main one? Everything starts with a first impression. Whether you're interviewing a new employee, or creating the right environment for total productivity, the way your office is designed can majorly affect both of these efforts. If potential employees enter your office and find it gloomy, dark, and dull, they might be less inclined to choose to work for you. An office is reflective of the company's culture, so it needs to set the right impression right off the bat.
Similarly, for current employees, if the office isn't designed to help them work, how can they maintain productivity? Even if you can't undertake a big redesign, introducing smaller things can help bridge that gap and create a better space for employees to feel confident and happy. In a previous article, we highlighted the trend towards creating a more lifestyle-based office design that brings in home-like amenities to help employees feel comfortable. Little touches like a fully-stocked kitchen or a communal lounge can go a long way in creating an environment where people feel motivated to work.
How Office Design Affects Well-Being & Engagement
A recent survey found that 55% of workers stated that their office design helped them to work more productively, while only 49% of workers said they felt comfortable and proud when bringing in visitors. What this is really indicative of is how much the environment and surroundings of an office space can do in terms of wellbeing and engagement. Employees that don't feel like their environment is supporting them often take more sick days, longer breaks, and even struggle to complete projects on time, thereby being less productive and impacting the bottom line. Similarly, if employees don't feel a sense of pride in their office, it's difficult to feel a sense of pride in the work itself.
Employee wellbeing is crucial to running a business that is truly successful and yields great results. Bringing more changes to the environment can help improve wellbeing, and lead to higher levels of happiness and motivation. This, in turn, enables employees to feel productive and ready to work.
Trust Dancon Construction with Your Office Design
It can be difficult to see the connection between these different elements, but think of it as a snowball effect: making one change in the environment reflects that you are focused on employee wellbeing, and signals to them that this is an office that cares about them as an individual, leading to more productivity and more revenue.
At Dancon Construction, our expertise lies in office design and workflow optimization. Our years of experience allows us to quickly identify opportunities to enhance your workspace according to the needs of your employees and various teams. We create design concepts that support the way you work, so you can work better. Contact the Dancon Services team to learn more about our Office Design and Workplace Consultancy Services.