Design Elements That Increase Office Productivity
Posted in Articles, on March 25, 2020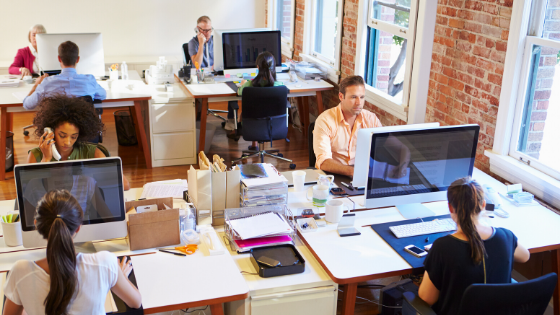 Productivity is a subject that's discussed often when it comes to work, but how much thought is given to the connection between design and productivity? Interior design encompasses a lot of different elements - not just the decorative and aesthetic aspects but the design and space of the office itself to help increase productivity. There are some factors in how the office space is designed and laid out that can help in increasing the wellbeing of employees, while also giving them the opportunity and flexibility to work in the way they think is best and be as productive as possible.
A balance between community and privacy
Open office designs are becoming increasingly popular, and for good reason. Not only do these type of offices encourage more communication between team members, but it also gives employees and senior management more opportunities to work with each other. Rather than siloing team members into cubes and cubicles, a well-designed open office plan helps increase collaboration and accessibility among the larger team and resources
Open plans need to be balanced with a sense of privacy and give employees the chance to also work independently as needed. Having designated 'quiet zones' or private pods/spaces is just as important so that employees have a place to go to when they need to take a client call or get some writing done without getting distracted or pulled into other conversations and meetings.
Bringing natural elements, literally
A lot of offices tend to be stark and gray, maybe with some artwork added or an accent piece or two but nothing else. But it has become more clear that for employees to feel motivated, there does need to be some natural elements involved. That might mean different interior design ideas depending on the way the office is laid out, but natural light is definitely important to incorporate. Employees tend to feel more motivated since it helps regulate themselves and stay balanced.
For offices with no windows though, bringing this can be a challenge. Think about adding more low-maintenance indoor plants like succulents ones that don't need as much light around the office to help bring in some of the outside inside. Or consider getting more lamps and lighting that mimic sunlight, and always encourage employees to go for a walk outside at some point during the day, even if it's just for 10 minutes, to help stay fresh.
Inspiration everywhere
Coming back to the actual objects and art used in interior design, think about each decorative piece in the office and what purpose it serves. Office interior design is about balancing function with aesthetics, so it is important to ensure that each item is useful in some way. When it comes to artwork and objects, having inspiration as a theme, whether it's quotes or objects that fit with the brand colours, can go a long way in helping strengthen the connection between work and office for employees, and help them be more productive. Having these thoughtfully displayed across the office gives employees gentle reminders to tap into their own creativity and inspiration and bring that sense into their work.
Ultimately, office interior design needs to be a careful balance among these different factors. Some of these might be easier to accomplish than others, but incorporating these elements can help improve employee wellbeing and their mental health while increasing their productivity overall. At Dancon Construction, our expertise lies in office design and workflow optimization, so please contact us to learn more about our Workplace Consultancy Services and how we can help your office use its space for optimum productivity.