Minimizing Distractions During an Office Fit-Out
Posted in Guides, on January 15, 2020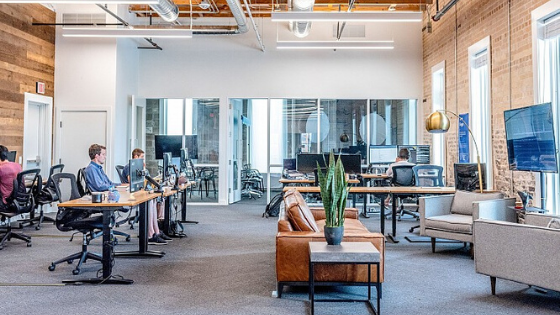 An office renovation or buildout is an exciting experience for any workplace. You may be updating the space to integrate more sustainable materials, trying to create more natural light, creating lifestyle-focused common areas, or increasing square footage to accomodate your growing team. No matter what your renovation or build-out project goals are, it's a huge undertaking, and can be a long process spanning several months depending on your business needs.
During this time, your team will face a number of issues that may challenge their workflow and productivity, from sawdust and dirt, to noise pollution, to spatial limitations. For an extended workplace fit-out or renovation project, taking your employees' well-being into consideration and effectively managing resources available to complete their deliverables is the key to minimizing distractions, and supporting staff productivity throughout the life of the renovation project.
1. Create a Long-Term Schedule
Whether your office renovation is a small, 6-week revamp, or a larger 6-month-long buildout, planning ahead is vital to maintaining your business operations. It's important for your business and its various departments to be aware of the breadth of the office renovation and its timeline in order to assess how that will affect the individual department deliverables and inter-department collaboration. Being transparent with your staff about the renovation timeline allows them to implement a plan to ensure they have or can acquire everything needed to keep their own projects on schedule.
If your teams need to have meetings with each other or clients, planning ahead is crucial to ensure all team members are on-board with project milestones and deadlines so that these client calls can happen as scheduled. You can then advise your renovation's Project Manager of these times, so they can coordinate their own teams accordingly.
2. Renovate in Phases
While it would be great to just shake everything up at once, and get the whole office building renovated in a shorter timeline, this idea doesn't support business operations, especially with larger office build-out projects that can take months to complete. By gradually renovating room by room, or section by section, you reduce the need to pause your own company's workflow during your office renovation, and can make sure that your staff still has sufficient space to work comfortably throughout the lifetime of your renovation project. Additionally, by having parts of the office remain "untouched" during the renovation, you provide your staff with safe spaces to escape the chaos of renovation work, which can be taxing on mental health and productivity.
3. Work-from-Home Schedules & Hot-Desking
For some employees, the overstimulation from being around a renovation project is simply too distracting to focus on work. Noise from power tools and visual disarray can understandably make it very hard to settle into a good, productive workflow. In this case, and especially during the more distracting renovation activities like banging out walls, and sawing wood for framing, it's worthwhile to implement rotating work-from-home schedules wherein select staff come to the office during designated days when their physical presence is needed, but otherwise work from the comfort of their home office for the duration of the renovation or office fit-out.
Hot-desking, or a clean desk policy, can compliment a work-from-home rotation, and minimize the office space required to maintain employee productivity during a renovation; the term hot-desking refers to the elimination of a permanent desk or workspace for each employee, and having existing workspaces used in rotation, or on a first-come-first-serve basis. Simply put, with fewer of your staff in the office, the more quickly a construction team can execute your build-out, and the sooner your teams can get back to business as usual.
4. Communicate with your Construction Project Manager
Every business is different - you have your own unique set of goals, ideas, value systems, workflow, processes, and company culture. As such, almost every workplace renovaton or office fit-out can come with its own set of challenges, for both the construction team, and yours.
This is where a good Project Manager is an essential element to the entire renovation project. Not only does a construction Project Manager liaise with all the necessary permit authorities and contractors, but they also liaise with you to understand what you truly need from your construction project, and establish the process in which it is executed.
If the type of work your company does requires a lot of quiet, your Project Manager can ensure all cutting and sawing takes place in the evening when staff has gone home to keep noise to a minimum during the day. If your teams are highly collaborative, so people are constantly moving, you may require a construction schedule that fits into evenings and weekends to avoid the construction team colliding with yours. If your company values maintaining lifestyle-focused common areas during the renovation to support employee work/life balance, like kitchens and lounges, your Project Manager can make sure these areas are thoughtfully relocated to compliment both your workflow, and that of your renovation team.

A successful office renovation or fit-out depends on the right combination of planning and execution, while still being able to maintain your business and employee productivity. At Dancon Construction, we leverage a full-service, end-to-end design and construction solution to support any office build-out or workplace renovation. Our workplace consultants can help you to design your new workspace, and implement a strategy that helps your team continue to work while our expert builders and contractors execute construction. Each renovation project is overseen by a dedicated, certified Project Manager that effectively communicates to the construction team the needs of your staff and business to make sure the entire process is seamless, cost-effective, comfortable, and that you are completely satisfied with your new office space.
With our European roots, and over 30 years in the design and construction business, our experience, innovation, and skill are unmatched in Toronto and throughout the GTA for custom commercial design builds, and complete commercial renovation. Call us today, or fill out our online form to discover the Dancon Construction difference!